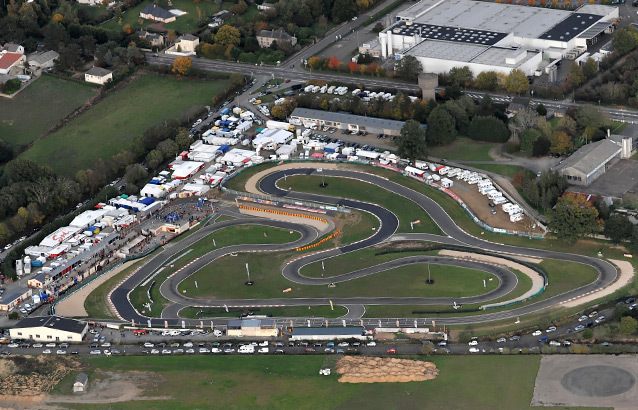 There will be a great programme at Laval, on the circuit of Beausoleil, next weekend. Young drivers will monopolise attention at the French Championships Minime, Cadet and KF-Junior for the second meeting of the season, while the French Cup of the Minikart class will be a sold-out event, which proves its growing dynamism.
The "Ecoles Françaises de Karting" (French Schools of Karting), established by the FFSA in 2007, are attracting a lot of new drivers to karting competitions and the introduction of the Rotax Micro Max motorisation for competition minikarts in 2012 has further boosted this discovery class for kids from 7 to 11 years of age. This year the French Cup has registered a sold-out, with a 50% increase over last season, which had also been excellent. This is very good news for a class that prepares many new karting talents.
Among the 72 young drivers who have entered the French Cup Minikart, a third of them had already entered this competition in 2012, with a group of excellent drivers such as Damyen Droux, Charles Christen, and Loris Thomassin, who concluded in the top 10. But this figure also highlights an evident turnover, with almost 50 new entrants in this national competition. There will be, of course, the top seeds of Regional Championships including: Enzo Lévêque, Timothy Sionville, Auxane Joly, Théo Nouet, Matteo Gouzerh, Hadrien David, Marcus Amand, Ryan Gomez, Valentin Costa, Thomas Vargas, Sami Meguetounif, it is hard to mention all the drivers who have already shown promising performances this season. The Laval meeting will decide their ranking and will reward the best among them!
In the Minime class, Théo Pourchaire will fight tooth and nails to defend his leadership in the provisional standings of the French Championship against Milane Petelet and Matteo Fouquet, with a few talented outsiders such as Hugo Szymanski, Timothy Peisselon, and Fantin Lebellier, while Charles Milesi, not very lucky at Angerville, could seize this opportunity to take his revenge.
In the Cadet class, Jean-Baptiste Simmenauer has dominated ahead of Adrien Renaudin, but the chasing pack is more motivated than ever to change this situation with determined drivers such as Maxime Sabin, Hugo Hakkinen, Vincent Marserou, Enzo Coursimault, and Martin Guérard.
And finally, KF-Junior international drivers will compete on a track where their karts will be able to perform at the top, to try and make a classification still pretty uncertain after the first meeting a little bit clearer. Amaury Bonduel will need to watch out for the Belgian drivers Benjamin Lessennes and Maxime Potty, while Tom Leuillet and Jules Bollier will try and consolidate their excellent standings. The presence of a driver from far-off Bahreïn for this meeting is certainly worth mentioning...